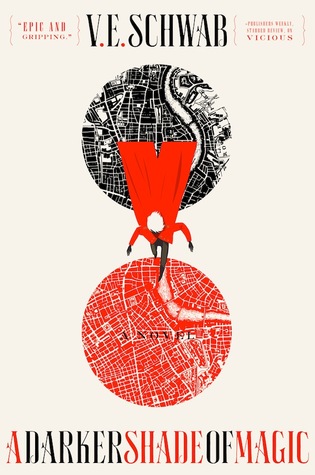 A Darker Shade of Magic
A Darker Shade of Magic 1
Author: V.E. Schwab
Pages: 400 pgs
Genre: Adult, Fantasy
Release Date: February 24th 2015
Kell is one of the last Travelers—rare magicians who choose a parallel universe to visit.
Grey London is dirty, boring, lacks magic, ruled by mad King George. Red London is where life and magic are revered, and the Maresh Dynasty presides over a flourishing empire. White London is ruled by whoever has murdered their way to the throne. People fight to control magic, and the magic fights back, draining the city to its very bones. Once there was Black London—but no one speaks of that now.
Officially, Kell is the Red Traveler, personal ambassador and adopted Prince of Red London, carrying the monthly correspondences between royals of each London. Unofficially, Kell smuggles for those willing to pay for even a glimpse of a world they'll never see. This dangerous hobby sets him up for accidental treason. Fleeing into Grey London, Kell runs afoul of Delilah Bard, a cut-purse with lofty aspirations. She robs him, saves him from a dangerous enemy, then forces him to another world for her 'proper adventure'.
But perilous magic is afoot, and treachery lurks at every turn. To save all of the worlds, Kell and Lila will first need to stay alive—trickier than they hoped.
Just as in my review of Vicious, Schwab has such a beautiful prose that I immediately got sucked into this book. I was swept up in the world, characters, and just her descriptions of everything. This just proved again how much I enjoy each book I've read of hers.
One thing my sister and I both commented on after reading ADSOM was Kell's coat. It's mentioned in the very beginning of the book and is the coolest thing ever! Seriously, if I could find a coat like he had I would definitely buy it and never let it go… if only.
Schwab's world building for this book was so imaginative and incredible, the concept of four London's and how different each one was. And the characters we're introduced to along the way only add to how wonderful this world is, especially Kell and his black eye. If you haven't had a chance to read this book, then do just so you understand what that means.
Each of Schwab's books ends as though it's a stand alone, but still leaves things open for future stories. Which is very much the same for ADSOM and after finishing it I'm even more excited to see what will happen next. If your curious, HERE's the cover reveal I posted for the sequel.