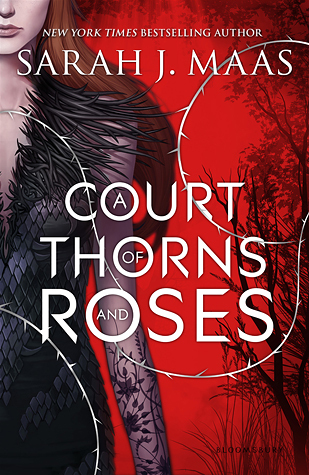 A Court of Thorns and Roses
A Court of Thorns and Roses 1
Author: Sarah J. Maas
Pages: 416 pgs
Genre: NA, Fantasy
Release Date: May 5th 2015
A thrilling, seductive new series from New York Times bestselling author Sarah J. Maas, blending Beauty and the Beast with faerie lore.
When nineteen-year-old huntress Feyre kills a wolf in the woods, a beast-like creature arrives to demand retribution for it. Dragged to a treacherous magical land she only knows about from legends, Feyre discovers that her captor is not an animal, but Tamlin—one of the lethal, immortal faeries who once ruled their world.
As she dwells on his estate, her feelings for Tamlin transform from icy hostility into a fiery passion that burns through every lie and warning she's been told about the beautiful, dangerous world of the Fae. But an ancient, wicked shadow grows over the faerie lands, and Feyre must find a way to stop it . . . or doom Tamlin—and his world—forever.
Perfect for fans of Kristin Cashore and George R. R. Martin, this first book in a sexy and action-packed new series is impossible to put down!
For anyone who's kept up with this blog for the past couple of years, you'll already know about my love for Sarah J. Maas' Throne of Glass series. It is absolutely brilliant, and while I was at a book signing for the second book she mentioned a little more about her new series A Court of Thorns and Roses, which I immediately added to my to-read list on Goodreads. I knew it would be wonderful… and it was!
I could not put this book down from the moment I got my hands on it. Not only were the characters great and well developed, but the world Sarah gave us of the Fae was just amazing. She took some of what we could already know from other stories, yet added all her own, making it completely hers.
One of my favorite, which I hope won't be considered a spoiler, was Feyre's love of art. Sarah gave readers a different view of it in this story. Instead of having Feyre carrying a sketch book around or something of the like, Sarah showed us how Feyre viewed the world as an artist. The way she experienced colors. It added an element to the story and to Feyre that I really enjoyed.
Though we did get to meet Fae like Tamlin, Lucien, and Rhysand, I can't wait to see more of them in book 2. Things are bound to be more high stake and more intense, and I can't wait! Reaching the end of ACOTAR only made me or anxious for more. More of this world and more of these characters.