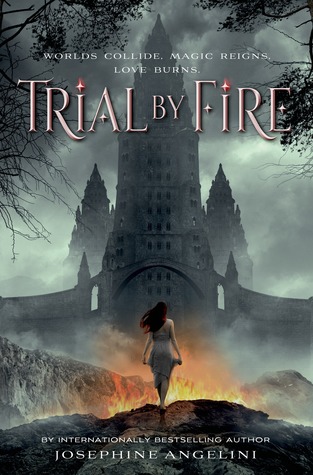 Trial by Fire
Worldwalker 1
Author: Josephine Angelini
Pages: 374 pgs
Genre: YA, Fantasy
Release Date: September 2nd 2014
This world is trying to kill Lily Proctor. Her life-threatening allergies keep her from enjoying experiences that others in her hometown of Salem take for granted, which is why she is determined to enjoy her first high school party with her best friend and longtime crush, Tristan. But after a humiliating incident in front of half her graduating class, Lily wishes she could just disappear.
Suddenly, Lily is in a different Salem—one overrun with horrifying creatures and ruled by powerful women called Crucibles. Strongest and cruelest of them all is Lillian . . . Lily's other self in this alternate universe.
What makes Lily weak at home is what makes her extraordinary in New Salem. In this confusing world, Lily is torn between responsibilities she can't hope to shoulder alone and a love she never expected.
I absolutely loved Josie's Starcrossed series, and couldn't wait to check this one out. And I was not disappointed. Plus, look at the original cover. Isn't it gorgeous!
I wasn't too sure how I was going to like this book at first, but the more I read the more interested I became until I found that I finished it. We got an alternate take on the Salem Witch Trials in an alternate universe, which was excellently done. The way Josie weaved the old with the new was so interesting and really showed how different that world was compared to the main character, Lily's.
The new characters we got to meet were also a great part of this world. There was Lily and then her alternate self in the world she ended up in, Lillian. I really enjoyed seeing how alike they appeared to everyone else, but how different they truly were on the inside. We even got to see how different Tristan was in the alternate world, but still had similar traits to Lily's Tristan.
Josie created such an interesting world and story, that I definitely want to continue with the series. Especially with the way that this book ends. The wait for book 2, Firewalker, feels like forever, but I have a feeling that it will be worth it in the end.