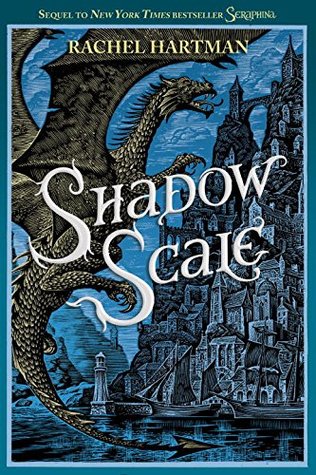 Shadow Scale
Seraphina 2
Author: Rachel Hartman
Pages: 608 pgs
Genre: YA, Fantasy
Release Date: March 10th 2015
The kingdom of Goredd: a world where humans and dragons share life with an uneasy balance, and those few who are both human and dragon must hide the truth. Seraphina is one of these, part girl, part dragon, who is reluctantly drawn into the politics of her world. When war breaks out between the dragons and humans, she must travel the lands to find those like herself—for she has an inexplicable connection to all of them, and together they will be able to fight the dragons in powerful, magical ways.
As Seraphina gathers this motley crew, she is pursued by humans who want to stop her. But the most terrifying is another half dragon, who can creep into people's minds and take them over. Until now, Seraphina has kept her mind safe from intruders, but that also means she's held back her own gift. It is time to make a choice: Cling to the safety of her old life, or embrace a powerful new destiny?
I was absolutely floored by the first book in this duology, Seraphina, when it came in 2012 and had been eagerly anticipating this sequel ever since. When I was asked if I wanted to participate in the blog for it's release, I jumped at the opportunity and am so glad I did.
From the very beginning, I was reminded of why I loved the first book. Everything about the story and world building that Rachel did was so rich and full, I felt completely immersed in it. You almost feel as though you are a part of the story and inside the book with the rest of the characters.
My favorite part, though it meant she was kept away from Kiggs for far too long, was getting to meet the other half dragons. Each discovery and meeting of them was different, some good and some bad, some a bit overwhelming. No two entirely the same. But they all added to the journey and offered Seraphina something she never really had before, family like her.
I also loved the dragons. Rachel did such a phenomenal job in creating them and showing how, even though they could look like humans, they truly were foreign.
I'm sad that Seraphina's journey has come to an end, when  I felt like I was just welcoming some old friends back, but I had so much fun going on it with them. And though things weren't always pretty or in a nice neat bow, I think Rachel handled it just right for the world she created.
AND, I'm super excited that Rachel will be in my neck of the woods in April for Teen Book Con! Maybe I'll be able to get some questions answers as well *crosses fingers*