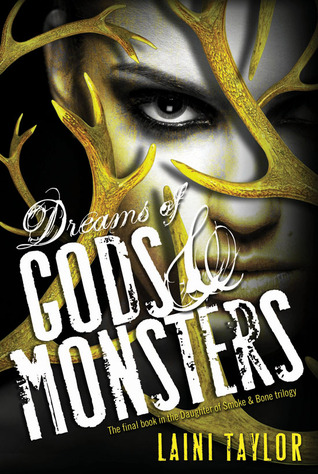 Dreams of Gods and Monsters
Daughter of Smoke and Bones 3
Author: Laini Taylor
Pages: 613 pgs
Genre: YA, Fantasy
Release Date: April 8th 2014
By way of a staggering deception, Karou has taken control of the chimaera rebellion and is intent on steering its course away from dead-end vengeance. The future rests on her, if there can even be a future for the chimaera in war-ravaged Eretz.
Common enemy, common cause.
When Jael's brutal seraph army trespasses into the human world, the unthinkable becomes essential, and Karou and Akiva must ally their enemy armies against the threat. It is a twisted version of their long-ago dream, and they begin to hope that it might forge a way forward for their people.
And, perhaps, for themselves. Toward a new way of living, and maybe even love.
But there are bigger threats than Jael in the offing. A vicious queen is hunting Akiva, and, in the skies of Eretz … something is happening. Massive stains are spreading like bruises from horizon to horizon; the great winged stormhunters are gathering as if summoned, ceaselessly circling, and a deep sense of wrong pervades the world.
What power can bruise the sky?
From the streets of Rome to the caves of the Kirin and beyond, humans, chimaera and seraphim will fight, strive, love, and die in an epic theater that transcends good and evil, right and wrong, friend and enemy.
At the very barriers of space and time, what do gods and monsters dream of? And does anything else matter?
As I'm sure you've guessed from my past reviews of her books, Laini Taylor is one of my absolute favorite authors, so when I had the opportunity to see her again at Teen Book Con in our home town last, I jumped at it. Especially since it was for the last book in her Daughter of Smoke and Bone series.
I loved getting to meet her and hear her talk about her writing, world building, and what she'd be working on next. Even the hopeful chance that we'd one day return to her Dreamdark series again. All of that made reading this book even more exciting for me. And though I was sad that it had to come to an end, I couldn't have asked for a better one.
Laini's beautiful, lyrical writing pulled me in immediately and reminded why I loved this world so much. I felt as though I was reading painting, which really the only other way I can describe the experience.
While I love Karou and Akiva something fierce, Zuzanna and Mik are probably two of my favorite secondary characters ever. They offered that bit of humanity and hope that the others needed in the midst of war, and had me cracking up as well.
I hate that Karou's story came to an end, I would love to continue reading about her and her adventures again and again, but in the end I think Laini gave them just the right ending. It wasn't perfect and tide up in a neat little bow, but it gave them a sense of hope for more, for a better future.
Now, I'm just anxiously awaiting to hear what we'll get from her next. Who else is as excited as me?
Laini Taylor
Website | Goodreads | Twitter